Our BarBEARrian Battleground Expansion needs a few more pieces of love before it is ready for playtesting. Designers Walter and Ian have done an incredible job of addressing the parts of Bears that gamers have found the most "fiddly" while keeping the game true to its original intent. A few elements, like the new player screens, need to be updated via InDesign, and the rulebook assembled for a prototype. That's a big crunch for the beginning of this month because we hope to have a copy with us on the Dice Tower cruise for convention attendees to try out.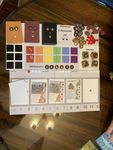 The primary requests we get with this game are consistent. The first one was that the side quest cards, which allowed players to gain more Glory (Victory Points for end game scoring) were too random with some being easily gained and others impossible to achieve. To that end, Ian and Walter added and Adventuring phase that is far more balanced and adds more player interaction. However, with that new phase, our player screens need a revision.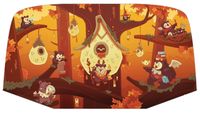 While we are on the topic of player screens, the other request is to have them be bigger to better hide the player mat for secretly allocating dice. With a ruler, scrap paper, and a demo copy of the game, we spent the better part of a morning "crafting" several versions. For bonus degrees in difficulty, we wanted to ensure the new screen did not change the size of the box. What we realized was that bigger did not mean taller, but that the side "wings" needed to be longer to provide more side coverage for the mats. We have a new draft so we'll see how it goes. Of course, if this is the final one, then we get to look at how that affects the art placement on the front of the screens, which were created with specific dimensions in mind. That's a future concern and we'll get to it when its time comes.